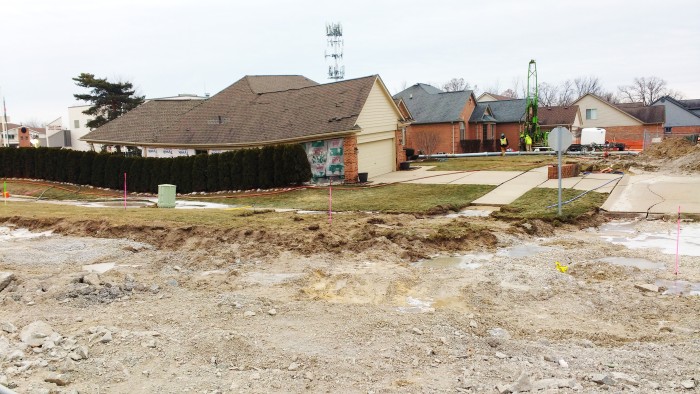 The residents of this home, located at 34980 Eberlein, at the corner of Eberlein and 15 Mile Road, were awakened Christmas Eve morning to the sounds of their home experiencing "early warning signs" from the developing sinkhole. The home was condemned, and once engineers determined it was stabilized for 24 hours, engineers and family members entered the home on a very tight time frame to remove the family's personal items and memorabilia.
This huge problem came to light early in the morning of Saturday, Dec. 24, Christmas Eve day, when the family living at 34980 Eberlein Drive in the city of Fraser, was awakened by "creaking, cracking, pounding" sounds, and realized there was something terribly wrong going on with their home. They called Fraser Public Safety officials who immediately responded to their location, and determined that their home appeared to be sinking into the ground.
Public Sa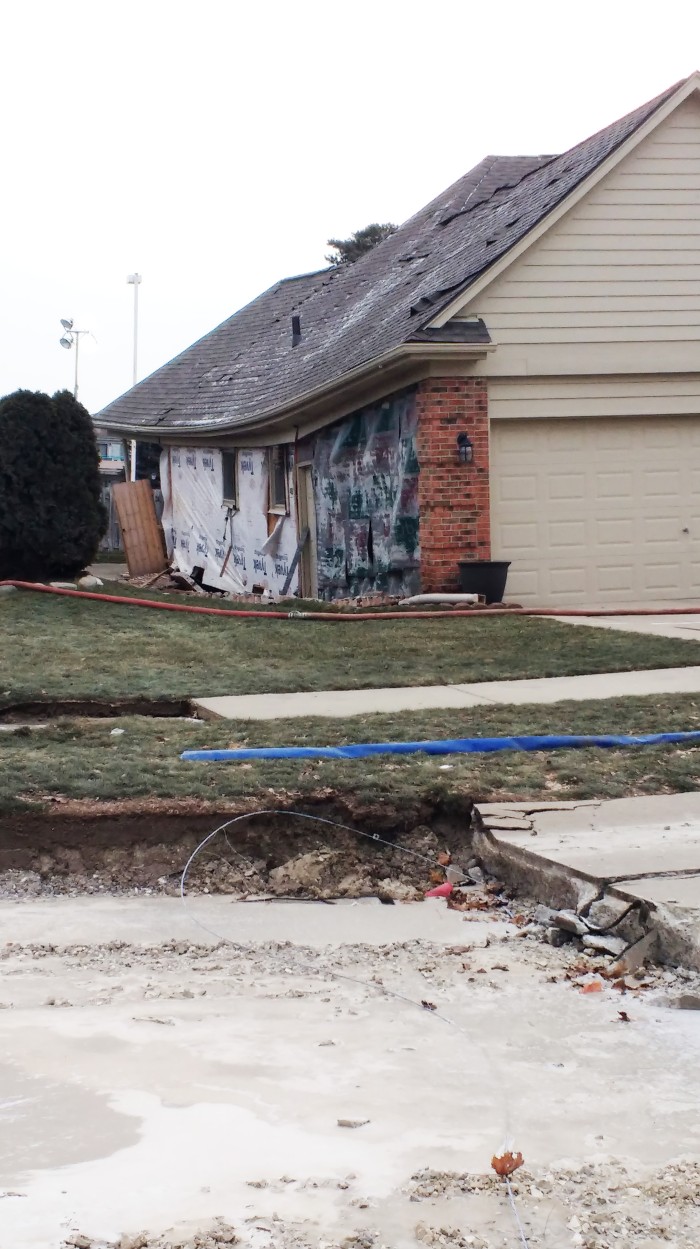 fety officials soon notified the residents on Eberlein, 22 of them, along with the homeowners at 15370 15 Mile, that there was a sinkhole developing, and they needed to evacuate their homes very quickly. The only street leading to their homes was at the intersection of 15 Mile and Eberlein, right where the epicenter of the sinkhole was developing. There were additional safety concerns raised, as the utilities for those homes were in danger of being cut due to their proximity to the sinkhole. As a safety precaution, the utilities were cut later that day.
The families did indeed evacuate, literally with the clothing on their backs, and whatever they could gather in the few minutes they had before they had to leave their homes; surely not the way they, and those who rushed to assist them, had planned on spending their Christmas holiday.
The thinking was that there was a break in the Macomb Interceptor Drainage District (MID) 11-foot diameter pipe that is buried some 60 feet underground in that location. While located in the city of Fraser, the break is centered at 15 Mile and Eberlein, between Hayes and Utica Roads, with Clinton Twp. on the north side of 15 Mile, and Sterling Heights just across Hayes Road.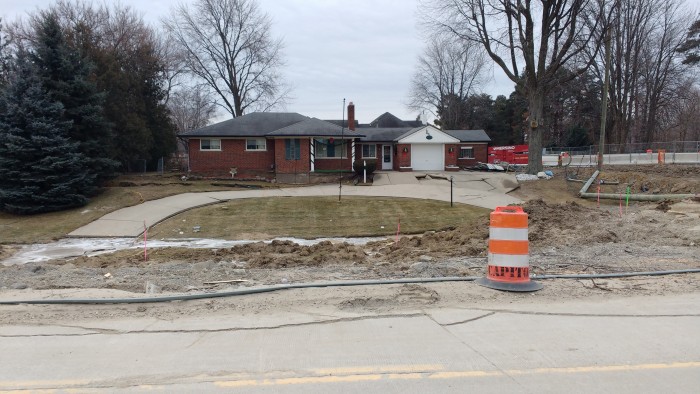 The family of this home, located at 15370 15 Mile, just west of Eberlein, was also evacuated, and the home later condemned. When engineers determined the structure was stabilized for a period of time, professional movers were able to enter the home and move the contents to a secure storage facility. The temporary bypass road to Eberlein was constructed on the perimeters of this property.
The 11 communities served by the interceptor are Fraser, Sterling Heights, Utica and New Haven, and Chesterfield, Shelby Clinton, Harrison, Lenox, Washington, and Macomb Townships, plus Selfridge Air National Guard Base. The communities served by the sewage system have a combined total population of more than 527,000, and there are also more than 43,000 businesses in those communities.
AEW's involvement began with a City of Fraser official's phone call to Scott Lockwood, AEW Executive VP, and the city's engineer, early on Dec. 24, and after his site visit, he communicated with AEW's President and CEO Roy Rose who was also contacted by the Macomb County Public Work Commissioner's Office, and together they mobilized Lou Urban, PE, Senior Project Engineer, who serves as the Project Manager, Keith Lumma, Engineering Aide III, and together with the Macomb County Department of Public Works, they brought in county engineers, consulting engineers and a number of contractors. Public Works Commissioner Candice Miller, Chief Deputy Commissioner Brian Baker, Chief Engineer Keith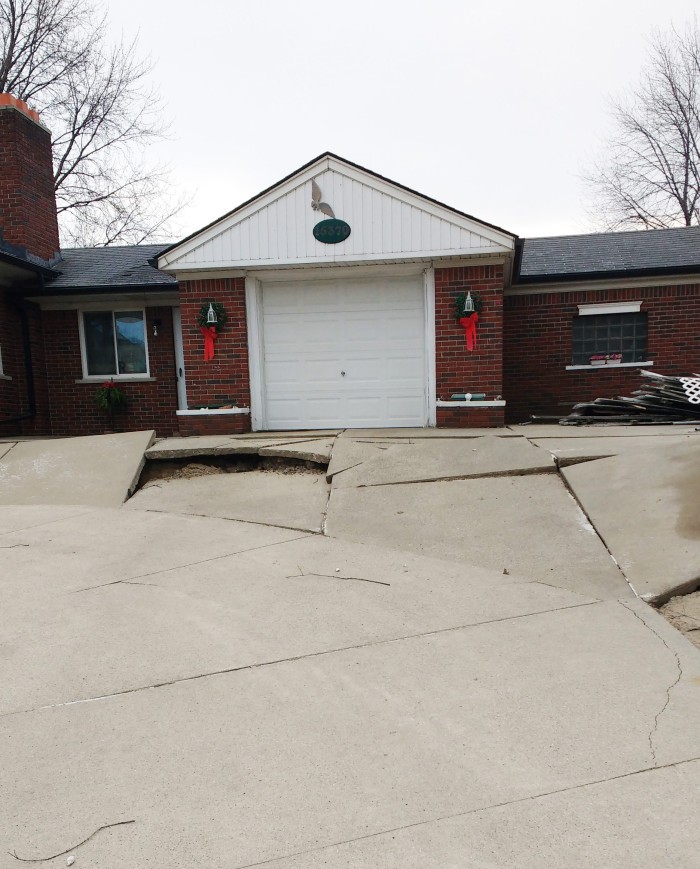 Graboske, and their team of engineers have been actively engaged in this huge effort.
Over the Christmas holiday weekend they organized a veritable army of contractors, consultants, city and county officials, staff and heavy equipment, and got right to work to help ensure the safety of area residents, plan and establish emergency measures for caring for the residents, their homes and businesses, and to begin the long, deliberate process of solving the sewer and sinkhole dilemma. The team worked 24/7 through Christmas and New Year's, and while the work continues today, it's safe to say that for everyone involved, from the homeowners, to government and public safety officials, and those tasked with the repairs, no one anticipated spending their holidays in the manner they did.
Many on the AEW Team are participating in this huge undertaking, and they include Chuck Mylinski, Team Leader of our Construction Services Dept., and his team, Mike Truax, PS, Licensed Surveyor, and his team, John Chown, PE, Senior Project Engineer, Todd Winkle, Engineering Aide III, Chris Frayer, Graduate Engineer, and Stefania Mastracco, IT Network Administrator, Luke Woolard, Systems Administrator, Jeff Miller, Graduate GIS Coordinator, Mike Vigneron, PE PTOE, Senior Project Engineer, Kevin Zauel, PE, Senior Project Engineer, and Wayne Oehmke, Public Relations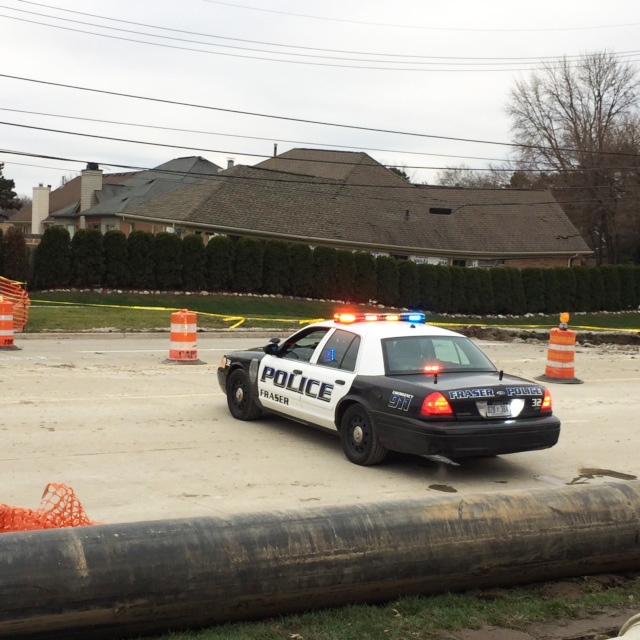 Fraser Public Safety officials were on the scene immediately, and continue to serve today.
 24/7 Construction crews were working to stabilize the site right through the
Christmas and New Year holidays.
Karen Ridgeway, President of Applied Science, Inc., Fritz Klingler president of FKE Engineering Associates, and Steve Mancini, President & CEO of Ric-Man Construction, Inc., Gino Mersino, Project Director for Mersino/Global Pump, Tim Hutchinson, Field Supt. for Michigan CAT, and their teams also joined in immediately. They have been joined by a number of other contractors, sub-contractors, engineers, and all utilities and cable providers have also worked hand-in-hand to help restore utilities, and make things as normal as possible for everyone involved.
Fraser Mayor Joe Nichols, City Council, Fire Division Commander Lt. Michael Pettyes, Patrol Division Commander Lt. Dave Bisby, Public Works Supt. Bernard Van Fleteren, Building Official Randy Warunek, Electrical Inspector Nick Schaefer, together with their teams, have been helpful, available and are great public servants. A special shout-out to Senior Activity Center Director Christina Woods and her team, and the seniors they serve … making their center available for our "Command Center" was so helpful and was very much appreciated.
Clinton Twp. Supervisor Bob Cannon, his board, and Department of Public Services Director Mary Bednar PE, CFM have been with us all the way, and they too have been cooperative, helpful and active participants in this ongoing effort that so directly impacts both Fraser and Clinton Twp. Sterling Heights officials have also been actively involved in this huge effort.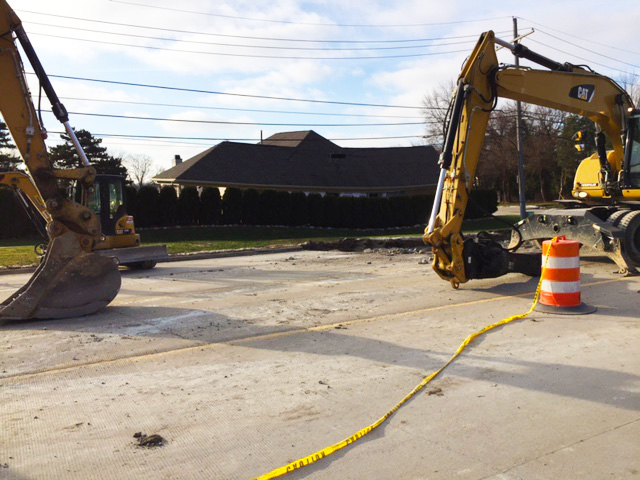 The sinkhole is located on 15 Mile, between Utica and Hayes Roads, and while the immediate area is cordoned off to through traffic, we've worked hard to ensure that folks have access to the businesses and health facilities located on 15 Mile.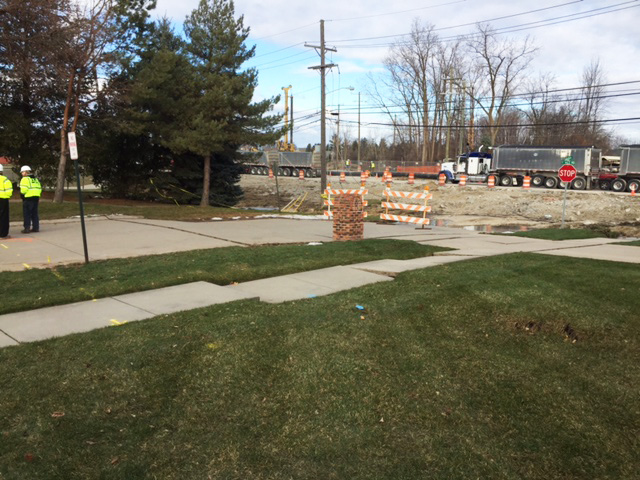 These two photos were taken from Eberlein, looking north to 15 Mile. Roy Rose, AEW's President & CEO was inspecting the sinkhole area, and the home located at the northeast corner of Eberlein.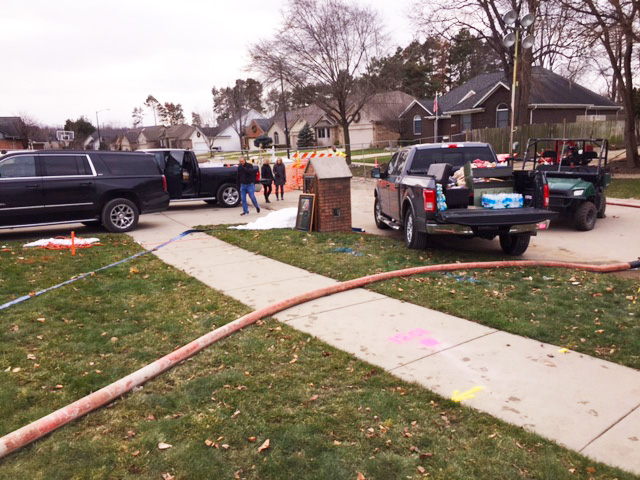 The residents of this home at the corner of Eberlein and 15 Mile were the first to "sound the alarm" that something was drastically wrong with their home, leading to the evacuation of the entire street on Dec. 24. It was soon condemned, and residents were unable to retrieve their belongings; on Dec. 30 engineers determined that the home hadn't moved in the last 24 hours and agreed to work with the homeowners to bring out as many of their personal possessions as time and the situation permitted. AEW's Roy Rose, Scott Lockwood and Chuck Mylinski, along with FKE's Fritz Klingler, and the homeowner and a son-in-law brought out everything they could during that time, and they were met by family members and AEW staff who carried their belongings to waiting trucks.
 Fraser Senior Activity Center command center, seated at the table are Todd Winkle, Keith Lumma, Lou Urban and Roy Rose of AEW.
 Working at the far table are members of AEW's Construction Services Department,
Brad Smith, Todd Winkle and Chuck Myslinski.
 AEW Project Manager Lou Urban making the best of his portable office space.
AEW's Lou Urban, Roy Rose, and Scott Lockwood going over a set of drawings.
 Members of AEW's Construction Services team, Brad Smith and Todd Winkle working to keep the project well organized.
 AEW Senior Project Engineer John Chown with the center's Christmas tree in the background.
The Senior Activity Command Center was always busy with AEW personnel, city and county representatives, contractors and consulting engineers.
Newly-elected Macomb County Public Works Commissioner Candice Miller, and her team, were on the scene Sunday, Jan. 1, her first official day in office, and hit the ground running with a press conference that morning, tours for media and stakeholders, and her presence, diligence and knowledge have been invaluable to this project.
Communication via phone and email contacts was established with the families evacuated from their Eberlein Drive and 15 Mile homes, and we shared/continue to share information with them on a regular basis. Two of the Eberlein homes and the 15 Mile home were eventually condemned out of safety concerns, and residents of the remaining homes were able to return home the evening of Sunday, Jan. 8. Prior to their return, utilities were restored, and a temporary access road was established from 15 Mile to Eberlein.
A command center was first established at the Fraser Senior Activity Center, also directly adjacent to the sinkhole, for all those who were involved with the huge task of working to contain and repair this huge interceptor. With the center reopening following the holiday break, our command center is now in a strip mall shopping center located on 15 Mile at Hayes.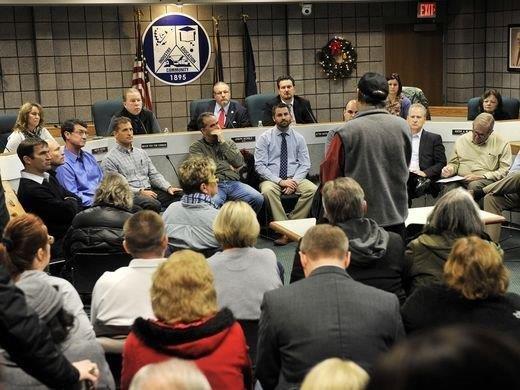 Fraser Mayor Joe Nichols organized an informational meeting with citizens, city and county officials and engineers, consultants, and our AEW team on December 26. The city's council meeting room was packed, overflowing with residents and print and electronic media folks and their equipment. AEW's Executive Vice President Scott Lockwood, and Project Manager Lou Urban participated in the presentations and Q & A portions of the meeting.
 Newly elected Dept. of Public Works Commissioner Candice Miller hosted a tour and press conference at the sinkhole site on January 1, her first official day in office. She was joined by Fraser Mayor Joe Nichols, County Executive Mark Hackel, and a host of media, residents, engineers and the AEW team.
News conferences and tours were organized for new Macomb County Public Works Director Candice Miller, along with County Executive Mark Hackel, Fraser Mayor Joe Nichols, and other government officials, on Sunday, Jan. 1, and with these folks and Governor Rick Snyder on Sunday, Jan. 8, and again with a host of federal, state and local officials on Sunday, Jan. 15.
A number of press releases have been distributed, with one very important one encouraging residents and businesses in communities served by the interceptor to conserve water, with the goal of lessening the flow into the sewer system; the good news is that it seems to have a positive impact, and has been a factor in not having to activate pumps discharging into the waterways since it was issued. Prior to the water conservation request and the installation of the short- and mid-term "dry weather" by-pass pipes and pumps all being in place and operating, there was one occasion on the evening of Monday, Dec. 26 when by-pass pumping of some sewage into area drains and the Clinton River was deemed necessary in order to protect area basements from being inundated with sewage.
 AEW's Survey Team has been intently monitoring spot elevations and recording all movement of the site.
 Eberlein Street at 15 Mile, while much of the street where it joined 15 Mile has been removed, is still experiencing significant cracking and settling.
 This home, located on 15 Mile, just west of Eberlein, also was condemned, and moving crews were also able to move all of the contents to a safe and secure storage location.
 The moving trucks arrived on January 3 to move the contents of another Eberlein home (one of three condemned due to the sinkhole), and had some difficult conditions to work in; mud, water, no electricity, but the teams from "Two Men and a Truck" did a great job. This house is adjacent to the house directly at the corner where the sinkhole was first discovered.
Work continues on an around-the-clock basis, and while much has been accomplished, there is still much work to do; short- and mid-term "dry weather" by-pass piping is in place and is operational, dewatering efforts are in progress to lower the water table and reduce pressure on the already damaged pipeline, compaction grouting work is completed, with the goal of stabilizing the approximately 150' by 300' sinkhole, and efforts are now focused on the installation of larger diameter by-pass piping that will effectively divert the entire sewage stream around the damaged portions of the interceptor and place it back into the interceptor downstream.
While this work is being completed there are ongoing efforts to determine the most viable plans for moving forward with reaching the damaged interceptor, and how best to repair it. Discussion includes how to prevent other areas of the interceptor from failing (there have been previous failures in the pipeline in the same general area in 1978 and 2004) going forward. The current piping was constructed of non-reinforced concrete, and there are options available to make it both stronger and more durable.
Team AEW is proud to serve in the lead role on this very significant project. We also most grateful that to this point there have been no injuries reported, that progress is being made, and we look forward to getting to the source of the problem, repairing it, and getting life back to normal for everyone involved just as soon as possible.
 Public Works Commissioner Candice Miller and County Executive Mark Hackel addressed the media at a news conference held at the Dept. of Public Works offices to update media on sinkhole progress and developments on January 4. 
 Regular meetings, chaired by Emergency Management and Communications Director Vicki Wolber, have been held with county and AEW officials and staff at the county's COMTEC headquarters in Mount Clemens. 

 AEW's 15 Mile Command Center is located on 15 Mile at Hayes Road, and right in the middle of all the action at the sinkhole project.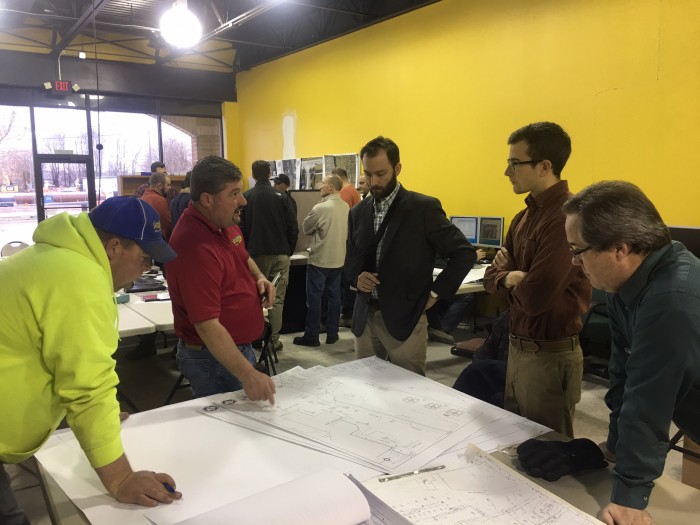 The offices serve as a convenient and strategic location for the AEW team, several who are headquartered there on a daily basis, as well as those who visit there on an as-needed basis, along with contractors, sub-contractors, and other consulting engineers.
 AEW's Roy Rose and Deputy County Executive Al Lorenzo.
 Engineers strategizing at the 15 Mile Command Center.
 FKE's Fritz Klingler and ASI's Karen Ridgeway, both experts in their fields, coordinating their efforts and expertise.
 The AEW hard hats and vests are lined up and ready for the Governor's tour on January 8.
 This giant blower is located on Hayes and 15 Mile, and helps to vent the interceptor. Effective, but not necessarily whisper-quiet, and will eventually be replaced with equipment that is more suitable for both venting and cleansing the air and environment.
 Vicki Wolber and Al Lorenzo welcome Governor Rick Snyder to the 15 Mile Command Center.
 Project Manager Lou Urban first updated Governor Snyder and attendees on the cause and effect of the sinkhole, progress made to this point, along with outlining the impact of  emergency, short-, mid-, and long-term bypass pumping efforts.
 During Gov. Rick Snyder's visit to the sinkhole site on Jan. 8; he was joined by a number of local officials, Public Works Commissioner Candice Miller, County Executive Mark Hackel, members of the media, and a team of AEW personnel.
 AEW's Roy Rose and Lou Urban led the walking tour for a very interested Governor Snyder and accompanying group of government officials.
 AEW President Roy Rose, Lou Urban, Governor Snyder, Commissioner Miller, County Executive Hackel and several others participated in the tour that was chilled by Mother Nature.
 Clinton Twp. Supervisor Bob Cannon, Clerk Kim Meltzer and Trustee Ken Pearl.
 Newly-elected State Rep (and former Clinton Twp. Treasurer) Bill Sowerby, Deputy County Executive
Al Lorenzo, and newly-appointed Chief of Public Works Deputy Brian Baker.
Chief of Public Works Deputy Brian Baker, Public Works Commissioner Candice Miller
and AEW President and CEO, Roy Rose.
 Work is in progress on installing the 54-inch diameter pipe along 15 Mile, from Hayes to Fontana Drive in Sterling Heights. This portion of piping is an important segment for the implementation of long-term pumping operations.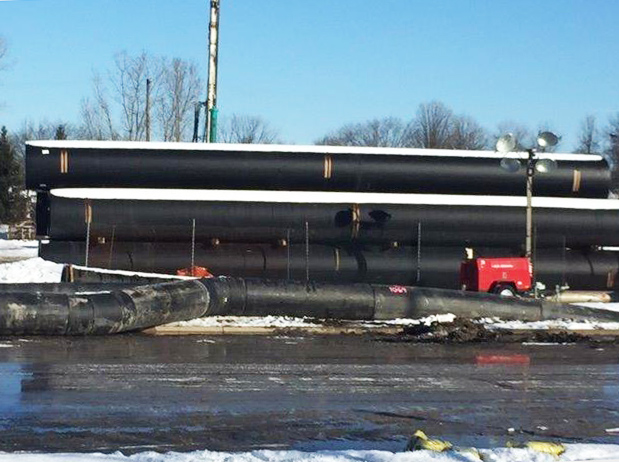 Twin 48-inch pipes will run along 15 Mile, from just west of Garfield Road to Hayes; the fusing operation joining the pipes together was recently started, and when installation is complete, long-term pumping will be in place.
 Meijer representatives also appeared at the January 9 meeting and presented the 23 families who vacated their homes on December 24 with a very generous gift bag that included cleaning supplies, staples and a gift card, complements of Meijer.
 Mayor Joe Nichols assembled a meeting of impacted residents and city and county officials, along with our team of engineers on Jan. 9 at Fraser City Hall Council Chambers, and Peyton Kalka, a Fraser resident and fourth grader at Falk Elementary School led the assembly with a rousing Pledge of Allegiance. There are seven students in Falk who reside on Eberlein, and Peyton felt a need to help. She organized a Bottle Drive with the goal of collecting $1,000 for each of the three families whose homes have been condemned; two on Eberlein and one on 15 Mile. At the meeting we learned that she was well on her way to reaching her goal, and we have no doubt she achieved it. Mayor Nichols surprised Peyton at her school soon after her appearance at the meeting, and presented her with a Certificate of Appreciation for her volunteerism.
The following series of photos is from the Legislative Tour of the project which took place onsite, on January 15, 2017.
 Anthony Forlini, "retired State Rep," now a newly-appointed Dept. of Public Works Deputy Commissioner, Chief Public Works Deputy Commissioner Brian Baker, County Commissioners Elizabeth Lucido and Kathy Tocco, and Deputy County Executive Al Lorenzo.
 State Representative John Churkin and Anthony Forlini.
 Mitch Hotts, Macomb Daily reporter, State Representatives Steve Marino and John Churkin.
 County Commissioner Andrey Duzyj and State Senator Tory Rocca.
 State Representative Pete Lucido and Fraser Mayor Joe Nichols.
 U.S. Senators Debbie Stabenow and Gary Peters, Congressmen Paul Mitchell, and Public Works Commissioner Candice Miller listen intently to AEW Project Manager Lou Urban.
 County Commissioner Marvin Sauger and AEW President & CEO Roy Rose.
 Congressman Levin, Sen. Stabenow, Public Works Commissioner Candice Miller, Sen. Peters,
AEW's Lou Urban and Roy Rose.
 State Senator Steve Bieda, Mayor Nichols, Congressman Levin, Senator Stabenow, Commissioner Miller, Congressman Mitchell and Lou Urban.
 AEW's Lou Urban briefed the legislators at our 15 Mile Command Center prior to the visiting the sinkhole site.
 Commissioner Miller was pleased by the great turnout of government officials from virtually every level of government, including legislators, supervisors, mayors, council members and trustees, and county commissioners. In the foreground are State Representative Patrick  Green and Commissioner Marvin Sauger.
 Deputy Commissioner Brian Baker, County Commissioner Don Brown, Commissioner Robert Mijac,
Sterling Heights City Attorney Jeff Bahorski and Mayor Michael Taylor.
 State Representative Diana Farrington, Washington Twp. Supervisor Dan O'Leary, and Karen Czernel Public Works Deputy Commissioner.
 Commissioner Duzyj, Congressman Levin, Senator Stabenow, Commissioner Miller, Congressman Mitchell, and State Senator Bieda.
 AEW's Roy Rose and State Representative Peter Lucido.
 Public Works Commissioner Candice Miller was sure to make her point that Macomb is looking for any financial assistance we can garner for the damaged interceptor and sinkhole repair.
 County Commissioner Phil Kraft and AEW Executive Vice President Scott Lockwood.
 Commissioner Duzyj, Public Works Engineers Vince Astorino and Tom Stockel.
 County Commissioner Marv Sauger and Congressman Sandy Levin.
 Public Works Commissioner Candice Miller, former 10th District Congresswoman who stepped down to run for the Public Works position, Paul Mitchell, newly-elected 10th District Congressman, and AEW Project Manager Lou Urban.
 Congressman Sandy Levin and Fraser Mayor Joe Nichols.