Shelby Township's Parks, Recreation and Maintenance Director Joe Youngblood presented
AEW's Jeff Bednar, Clinton River Watershed Council's President, and
Watershed Planner Amanda Oparka with a "Better Place to Learn" award.
The Clinton River Watershed Council was recognized by Shelby Twp. Supervisor Rick Stathakis for their "Efforts to make the Charter Township of Shelby a Better Place to Learn," at the Township's annual State of the Township breakfast meeting held on July 20 at the Palazzo Grande in Shelby Township.
Jeff Bednar, PE, Senior Project Engineer at AEW, and the Council's President, along with Amanda Oparka, Watershed Planner, accepted the award on behalf of the organization.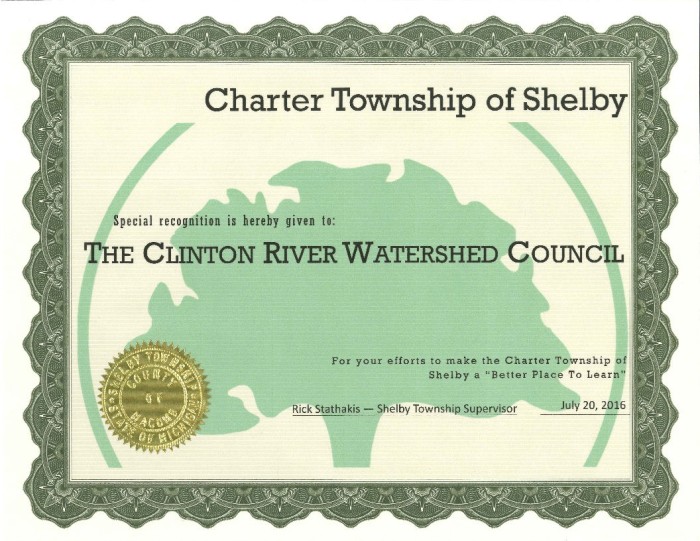 The award presentation stated, "The Clinton River Watershed Council is an active partner with Shelby Township in all things relating to one of our top recreation assets, the Clinton River. The Watershed Council helps raise awareness for environmental issues associated with the river and promotes safety with the Township's Parks and Fire departments, as well as helping the township obtain grant funding for improvements to help our residents get the most out of living along one of Michigan's most beautiful waterways."
"The programs and resources offered by the Watershed Council ensure our residents safely enjoy sharing the township with the river, and that they understand their role safeguarding the river for future generations. This is why we are proud to present the Clinton River Watershed Council with the 2017 Better Place to Learn Award."
Anderson, Eckstein and Westrick, Inc. congratulates and thanks Jeff, Amanda and the entire Watershed Council for their work on behalf of the Watershed Council.
Founded in 1968, Anderson, Eckstein & Westrick (AEW) is a leading design firm providing civil engineering, architecture, geographic information systems (GIS) consulting and surveying services to municipal, institutional and private clients. We are committed to the enduring strength of our communities through innovation, value and engineering excellence.