A number of elected officials, contractors, and citizens were on hand for the long-awaited re-opening of 15 Mile,
and the completion of repairs to the formerly collapsed interceptor.
When the family who lived at the corner of Eberlein and 15 Mile Road began noticing "cracking, creaking, groaning" sounds coming from their home on Christmas Eve morning in Dec. 2016, their discovery set of a chain of events that no one could have envisioned one year ago. What they were hearing was the sounds of the "15 Mile Road Sewer Collapse sinkhole" developing as the 11-foot diameter sewage interceptor some 60 feet below the surface collapsing, causing the 22 homes on Eberlein and one on 15 Mile to be evacuated that morning.
Eberlein was evacuated, 15 Mile was closed to the public, and the repair process began. The good news is that the major repairs were completed prior to this year's Christmas Eve, and traffic and homeowners, businesses and the motoring public can again use the newly rebuilt roadway.
The Macomb Interceptor Drain Drainage District (MIDDD), is the owner of the interceptor, under the jurisdiction of Commissioner Candice Miller, and the Macomb County Public Works Office, and Anderson, Eckstein and Westrick, Inc., (AEW) was the lead engineer on the project.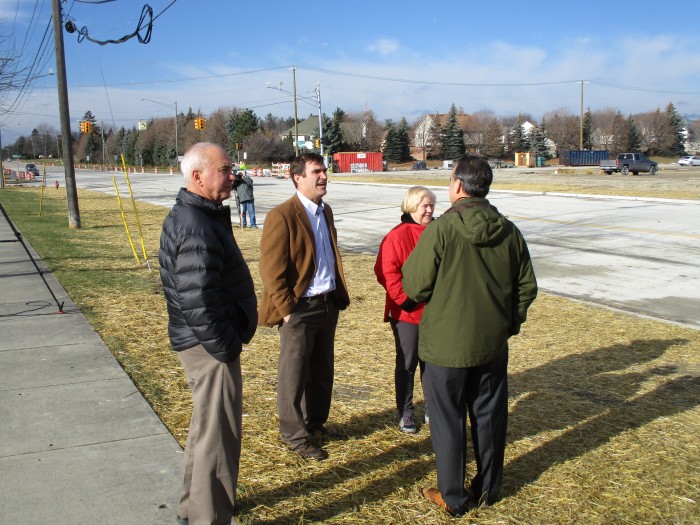 AEW Board Chairman Roy Rose, Executive VP Scott Lockwood, Commissioner Miller, and FKE Engineering President Fritz Klinger observed the re-opening of 15 Mile and much to the delight of motorists, homeowners and business owners, the flow of traffic once-again began to travel on the busy roadway.

With Macomb County Drain Commissioner Candice Miller at the wheel of the Mustang "Ribbon Cutter," and County Executive Mark Hackel, Clinton Twp. Supervisor Bob Cannon, and Fraser Councilman Michael Lesich holding the ribbon, 15 Mile Road was officially re-opened to the public.