AEW's Board of Directors: Scott Lockwood, PE, Executive VP, Steve Pangori, PE, President & CEO, Gordie Wilson, PE, Executive VP, Vanessa Hayes, CPA, CFO, Secretary/Treasurer, and Roy Rose, PE, Chairman of the Board.
Clients, employees and friends all came together the evening of Saturday, May 12 at the Lorenzo Cultural Center and Macomb Performing Arts Center to join in the celebration hosted by the firm to commemorate their 50th year of providing southeastern Michigan with quality Civil Engineering, Architectural and Surveying services.
The festive evening included delicious food and beverages, string quartets, an engaging video production produced by Mad Habit Creative (Click here to watch it), a performance by the Capitol Steps, followed by an afterglow with delightful desserts and a special take-home gift of wines and chocolates. There were also featured Tributes and Congratulations from the State of Michigan, the Macomb County Board of Commissioners, and the cities of Livonia and Mount Clemens.
State of Michigan Special Tribute Presented by Macomb's Senate Delegation:  Roy Rose, Gordie Wilson, Senator Steve Bieda (also presenting on behalf of Senators Jack Brandenburg and Tory Rocca), John DeBusscher, Steve Pangori, Vanessa Hayes, and Scott Lockwood.
State of Michigan Special Tribute: Gordie Wilson, Roy Rose, Steve Pangori, Representative Peter Lucido (also presenting on behalf of Governor Rick Snyder, Lt. Governor Brian Calley, and Senator Jack Brandenburg), Scott Lockwood, and Vanessa Hayes. 
Macomb County Board of Commissioners Official Tribute: AEW's Jeff Allegoet, County Commissioner Jim Carabelli (also presenting for fellow Commissioners), his wife, Annemarie, and Roy Rose.
AEW's President & CEO Steve Pangori, and his wife, Laura, with the beautiful metal plaque that was gifted to AEW on their Golden Anniversary by Joseph DeFelice of J J Mich, Inc., and the Roseville Schools Board.
From a small one-engineer civil engineering consulting firm started by Warren "Andy" Anderson, PE, way back in 1968, Anderson and Associates, to the current Anderson, Eckstein & Westrick, Inc., with 115 employees, the ensuing 50 years have been devoted to "Engineering Strong Communities," and we're proud to presently serve 29 municipalities and a number of private clients from our offices in Shelby Township, Roseville and Livonia.
Anderson was employed by the Macomb County Road Commission prior to starting his own firm, and he was joined in 1970 by George Eckstein, PE, and in 1972 by Bill Westrick, PE, both also former Road Commission employees.
As the firm's client base grew, so did their staff and the services they provided; municipal engineering, architecture, structural engineering, surveying, land development, construction administration, traffic engineering, water resources and Geographic Information Systems (GIS) were all added to their portfolio of expertise.  You can read more about our history HERE.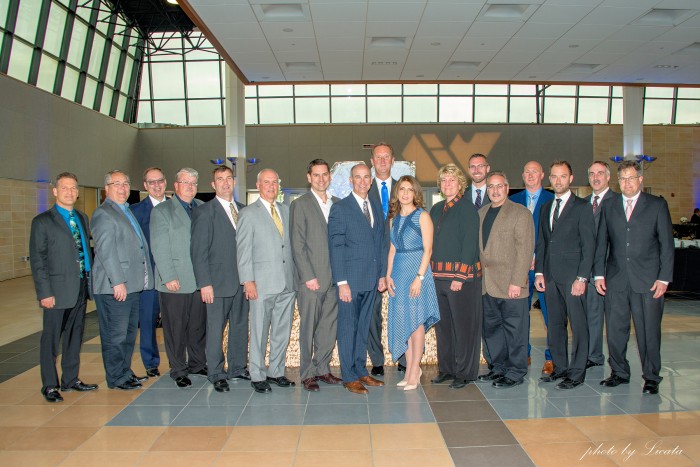 AEW's Board of Directors and Shareholders:  Lou Urban, John Chown, Lyle Winn, Bob Birkett, Scott Lockwood, Roy Rose, Kyle Seidel, Steve Pangori, Gordie Wilson, Aseel Putros, Vanessa Hayes, Mike Smith, Frank Varicalli, Mike Truax, Mike Vigneron, Jeff  Allegoet, Kevin Zauel, and (not pictured) Jason Arlow and Juli Sala.
AEW is proud of its heritage and their team of employees, and is poised to move forward in serving our communities, businesses and families who live and work in southeastern Michigan with quality services, integrity and professionalism.