ACEC of Michigan Executive Director Ron Brenke presents AEW Executive Vice President Steve Pangori with a plaque commemorating him for six years of leadership as a director of the organization.
The American Council of Engineering Companies (ACEC) and the American Society of Civil Engineers (ASCE) partnered on hosting a conference "focusing on how infrastructure can drive economic development through emerging or expanding markets, creative leadership, new technologies and unique solutions developed by practitioners, faculty/infrastructure developers and their owners."
In addition to Steve, AEW was also represented at the conference by Executive Vice President Scott Lockwood, who along with Evans Bantios, PE, Macomb County Wastewater Engineer II, and Fritz Klingler, PE, FK Engineering Associates President, participated in an educational breakout session, "Michigan's Deteriorating Infrastructure Hits Home" at the conference.
The presentation centered on the "15 Mile Interceptor Collapse in Fraser" on Christmas Eve morning in 2016. The speakers focused on "Learning the importance and benefits of working in a team environment," "Turning a crisis into a manageable situation," and "Having the mutual respect and trust of government agencies and the contracting community."
AEW Executive Vice President Scott Lockwood kicking off the insightful presentation.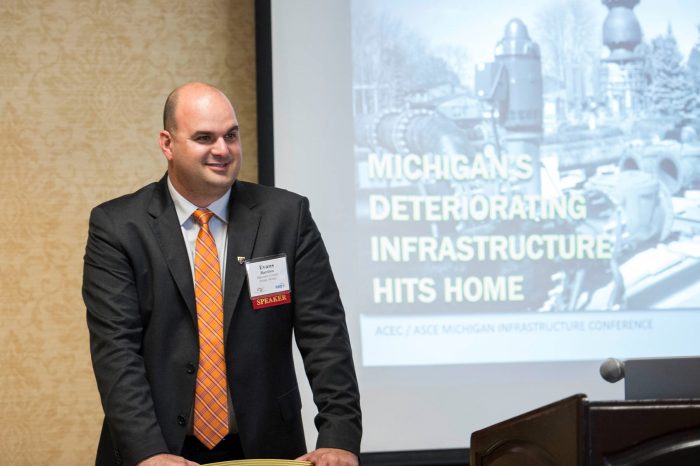 Macomb County Wastewater Engineer II Evans Bantios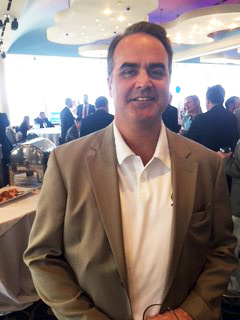 The abstract AEW provided the conference selection committee stated:"We're all aware of our state's aging infrastructure, but when a major sewer interceptor collapses, creating a football-sized sinkhole and causing the evacuation of 23 homeowners on Christmas Eve morning, it becomes very real, very quickly for both those directly involved, and those brought on board to resolve the rapidly-evolving disaster.  This 11-foot diameter interceptor in the heart of Macomb County, serves 11 communities, Selfridge Air National Guard Base, 500,000 residents, and thousands of businesses."
AEW serves as the Lead Engineer, and works collaboratively with Macomb Public Works Commissioner Candice Miller, and her team on this essential infrastructure restoration project.
FK Engineering Associates President Fritz Klingler