The new Meijer store is located at the corner of 10 Mile Road and Schoenherr, on the site of the former Henry Ford Macomb Hospital campus, also previously known as Bi-County Hospital. The grand opening ribbon cutting was attended by city, county, state and Meijer officials, and AEW representatives. Warren Mayor Jim Fouts, Lt. Gov. Brian Calley, and Meijer CEO Hank Meijer were among the official ribbon cutters.
The new 159,000 square feet Meijer is located on a 21.5 acre site.
AEW participated in this significant development from the beginning, with our scope of work including the feasibility study, surveying, conceptual and construction design phases, the site/civil elements, and also assisted the construction managers during the construction.
Our team coordinated efforts with national developer REDICO for the demolition of the former hospital, and the site required substantial brownfield redevelopment efforts. We designed the underground utilities, a 656 space parking lot, roadway improvements, and a comprehensive Stormwater Management System that includes a detention pond, bioswale, and pervious pavers.
The store is 159,000 square feet, and there's also a gas station with a 3,400 square foot convenience store, and two outlots for future development. The store cost $20 million to build, and will employ 300 part- and full-time workers. AEW was also responsible for a sustainable site design and assisting the architect with their submission to make the store a Leadership in Energy and Environmental Design (LEED) Certified development. LEED certification earns points across several categories, including energy use and air quality.
Our services included Surveying, Aerial (Drone) Imagery, Site Entitlements and Engineering, and Construction Management support.
AEW team members who had oversight for the project:
Project Manager:        Lyle Winn, PE
Quality Assurance:     Steve Pangori, PE
Engineering:                Juli Sala, PE, LEED AP BD+C and Mike Vigneron, PE, PTOE
Surveying:                   Mike Truax, PS
Aerial Imagery:          Craig Amey, PS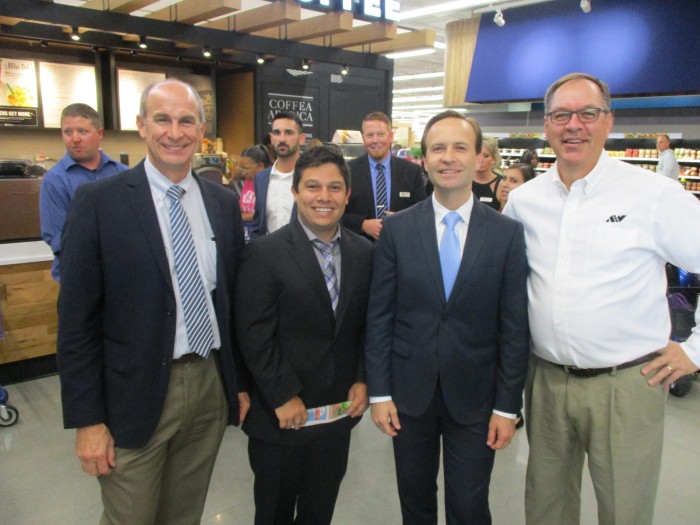 Steve Pangori, Juli Sala, Lt. Gov. Brian Calley, and Lyle Winn.
Juli, Lyle and Steve with Hank Meijer, representing the Meijer family at the Grand Opening Celebration.
From left, Andy Cooper, Rockford; Jeff Caligiuri, Meijer; Matthew Tufford, Rockford, Juli, Lyle, Steve, and Dave Williamson, Rockford.
Juli, Lyle, and Steve enjoying a fun photo op with Miss Chiquita Banana!
The new 656 space parking lot was constructed with sustainability at the forefront.
Lyle overlooking a portion of the Stormwater Management System that AEW designed, including a detention pond, bioswale, and permeable pavers.
Lyle with the Permeable Brick Paver System that was installed in the parking lot.
Four electric vehicle parking spots with EV charging stations are also available at the new Meijer.