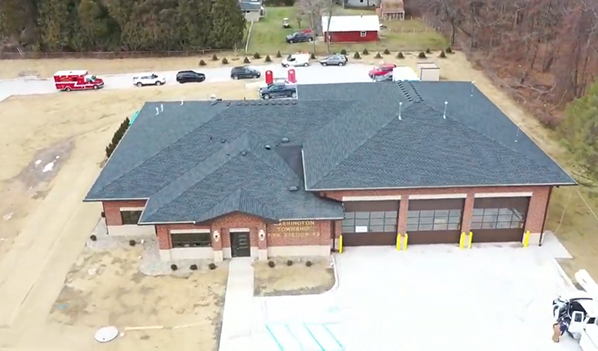 With the goal of better serving residents on the west side of the township, along with the many visitors at nearby Stony Creek Metropark, township officials selected a 1.2-acre site at the corner of 28 Mile and Mound roads to locate Station #3.
The new 3-bay, approx. 8,000 sq. ft. station, will complement Station #1 located at 27 Mile and Van Dyke, and Station #2 at 30 Mile and Campground roads in the growing township. It also helps fulfil the Mission of the department to "enhance the quality of living in our community by preventing or minimizing injury, and loss of human life or property, resulting from fire or other emergencies that may occur within the jurisdictional boundaries of the township we serve."
The station was designed for 2-6 on call fire fighters, and includes two fire truck bays, one ambulance bay, and a utility vehicle bay. There are also access driveways to both 28 Mile and Mound roads.
As seen in these recent photos, the exterior is substantially completed, the interior work is progressing well, and the finishes and cabinetry are also nearing completion. AEW is handling the Architectural, Structural, and Civil Engineering services for the project, and our sub-contracting colleague on many projects, Peter Basso Associates is performing Mechanical and Electrical Engineering services.