Head of School Andy Guest, and lower division Principal Diana Atkins, led the dedication by welcoming and thanking the faculty, staff, students, parents and the project team, which included Steve Pangori, PE from AEW.  Father Ron Nikodem, s.m., from the campus ministry department, blessed the new structure during the opening ceremony.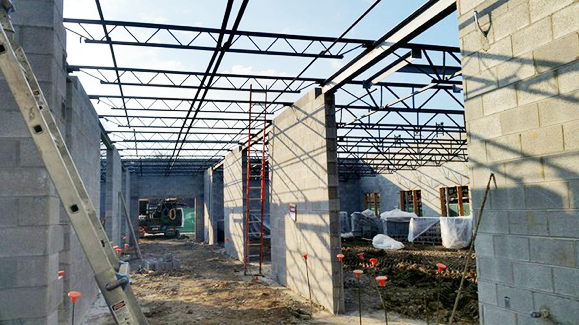 Early in construction, block walls and metal trusses start to lay the framework for the addition.
The six new class rooms which are the same size as existing classrooms, give Notre Dame's lower division a total of 18 classrooms at the Pontiac campus.
A view down the new hallway which will soon be bustling with students.
This project was a $1.1M building addition which included six new classrooms, a new restroom, and a new entrance/exit on the south side of the building.  AEW provided architectural design services for this building addition, along with structural engineering, and civil engineering for minor site improvements necessary to facilitate the new structure.