AEW Honored with "Surveying Merit Award" by ACEC MI
Posted on March 19, 2021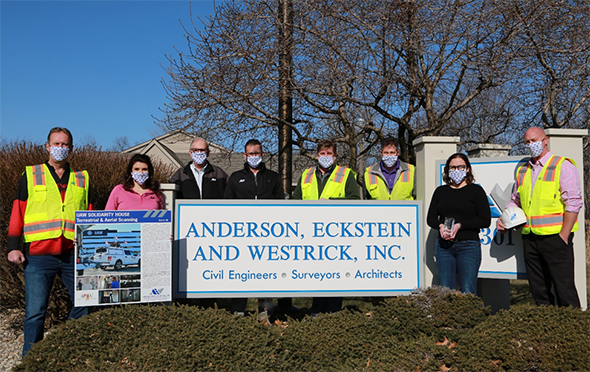 AEW's UAW Solidarity House Project Team: Gordon Wilson, PE, Project Manager; Brandy Chirco, Graduate Architect; Wayne Oehmke; Jason Arlow, AIA; Craig Amey, PS; Kevin Zauel, PE; Krysten Hergert; and Mike Truax, PS, with the Project Panel. Not pictured: Carl LaGodna, Team Leader, and Aaron Carpenter, EA II.
The American Council of Engineering Companies/Michigan (ACEC/M) recently honored firms for "Engineering and Surveying Excellence" during the association's annual Engineering and Surveying Excellence Awards Gala.
On February 26, design professionals and guests gathered virtually to recognize outstanding Michigan engineering and surveying projects from the past year, as well as engineering professionals who have significantly contributed to the profession.
The ACEC/M Awards Program recognizes outstanding efforts of professional design firms to solve client's needs through exceptional projects and offers the opportunity to showcase the year's best engineering and surveying achievements to an audience of peers, clients and decision makers at all levels.
"The projects engineered by private sector firms have a profound effect on the quality of life for all Michigan residents. Their efforts result in quality roads and bridges, safe drinking water, and a clean environment for people to live, work and play," said Ronald Brenke, PE, ACEC/M Executive Director.
Anderson, Eckstein & Westrick, Inc., (AEW) was awarded the Association's "Surveying Merit Award" for the firm's superior work on the "UAW Solidarity House" project following a devastating fire at the headquarters of the international Union, United Automobile, Aerospace and Agricultural Implement Workers of America. Home to the UAW since its dedication by then UAW President Walter P. Reuther in 1951.
In July, 2019 fire claimed the third floor, with the remainder of the 165,617 sq. ft. building, consisting of the ground floor, plus six additional floors, sustaining extensive smoke, soot, ash, and water damage, causing the employees who worked there to be moved to other facilities.
UAW leaders met numerous times, and determined that the best course of action was to renovate and modernize the entire building. Unfortunately, accurate and detailed floorplans of the building were lacking. Over the years, internal renovations and exterior additions had changed the historic building to the extent that old drawings of the floor plans were no longer viable, and AEW was commissioned to assist in the Investigative, Design, Survey and Reconstruction phases.
As restoration planning began, the UAW Team, including AEW architects, engineers, and surveyors visited the facility to assess the magnitude of the damage and offer suggestions on how to best proceed with this noteworthy project. The investigation revealed that development of architectural, mechanical, and electrical reconstruction plans would be complicated, time-consuming, and would require significant expertise and technology.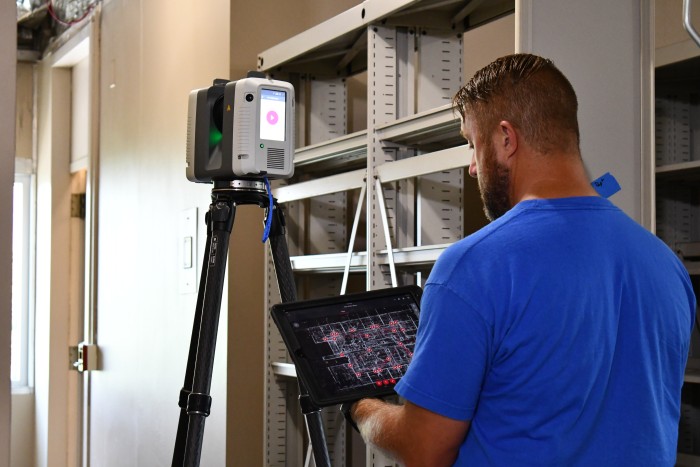 AEW's Survey Team performed Terrestrial and Aerial Scanning of more than 10,000,000,000 interior and exterior points of Solidarity House. Trimble Total Stations, Letica Scanners were utilized to accurately document interior and exterior imagery and dimensions.
The scanning results were then used to create a working architectural model, allowing the next project phase to create accurate floor plans, elevations, and a full 3D model in Revit.
This enabled the building to be designed and constructed for updated functionality and aesthetics, while also bringing it up to today's codes and ADA compliance. This included more efficient mechanical, electrical, and plumbing systems (MEP), along with new energy-efficient glazing and façade, new stair towers for egress compliance, and updating the entire facility with improved worker safety and usability.
The UAW Team, including Anderson, Eckstein & Westrick, Inc., Peter Basso Associates and Wakely Associates, worked tirelessly to assure that this historic restoration and modernized building complies with the City of Detroit Building Codes and meets user requirements and expectations. Barton Malow Company serves as the Construction Manager, and the entire team recognized that in order to assure a successful project, it was essential that all components be found on quality and reliable information.
Founded in 1968, AEW remains at the forefront of new construction trends and approaches. Its architectural and design, surveying, and civil engineering services run the gamut from traditional on-site work to modular design, and all things in between. The firm has had recent projects in residential, health care, manufacturing, and education, along with a focus on municipal buildings and facilities.
AEW is committed to the enduring strength of our communities through innovation, value, and engineering excellence.
---