AEW's Contributions to Detroit's Continuing Revitalization
Posted on March 30, 2021
The Corner
The Corner mixed-use development, at the corner of Michigan and Trumbull, on the site of the former Tiger Stadium, and the UAW's Solidarity House on East Jefferson, are both great examples of the resurgence taking place in many areas of the City of Detroit, and AEW is proud to have participated in both of these great projects.
The groundbreaking for The Corner was held on May 8, 2018, and the $30 million development houses 111 rental studio, one- and two-bedroom units, and approximately 26,000 square feet of retail space fronting Michigan Avenue at Trumbull.
With modular apartments, many of the individual components are constructed off-site, therefore they aren't exposed to the elements and can be built and inspected in a tightly controlled environment. Still, those modular pieces need to be perfectly interconnected and unified into a single, cohesive structure.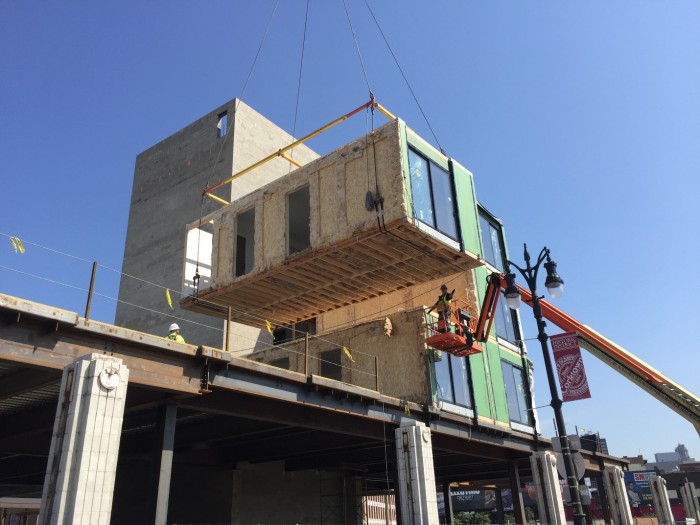 Troy-based O'Brien Construction Co., was the project's general contractor, and Champion Commercial Services, the modular unit fabricator, and they teamed with AEW to provide mechanical, electrical, plumbing, structural design, and drafting services for the modular portion of the apartment building.
---
Cambria Detroit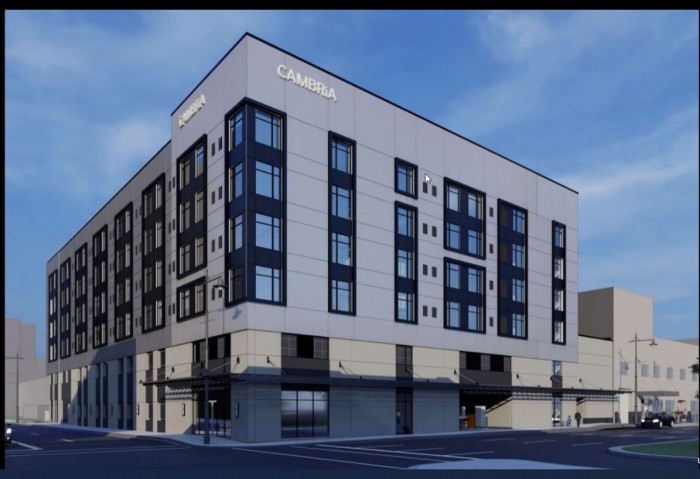 The new Cambria Detroit is located at 600 W. Lafayette Blvd., and features a mix of history and modern design. This Albert-Kahn structure, originally known as the Walker-Roehrig Building, opened in 1936 and was once home to WWJ-950 radio.
It has been transformed into a contemporary upscale hotel, and features elements of the architecture and radio station, while bringing in artwork, menus and beverages that capture local flavor with the spirit of Detroit.
There are 158 guestrooms, two restaurants, lobby and rooftop bars, a nightclub, fitness center, ballrooms and meeting space, and green rooftop event space. The hotel's signature restaurant is "Cibo Detroit by Fabio Vivani," and the lobby bar is named "Beve Detroit."
As with "The Corner," AEW proudly partnered with Champion Commercial Structures on this important new project. We served as a sub-consultant, providing drafting services and structural design for the modular portions of the project.
Choice Hotels International Inc. signed an agreement with 600 Ventures II LLC, a joint venture that includes The Means Group Inc., and Holdwick Land Development LLK, both based in Detroit, and Loucar Management, located in Troy.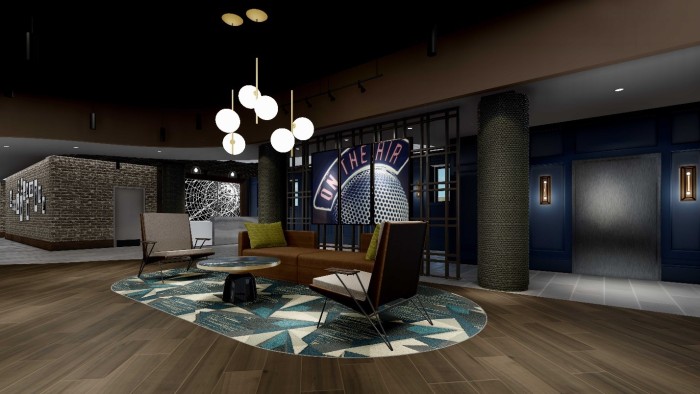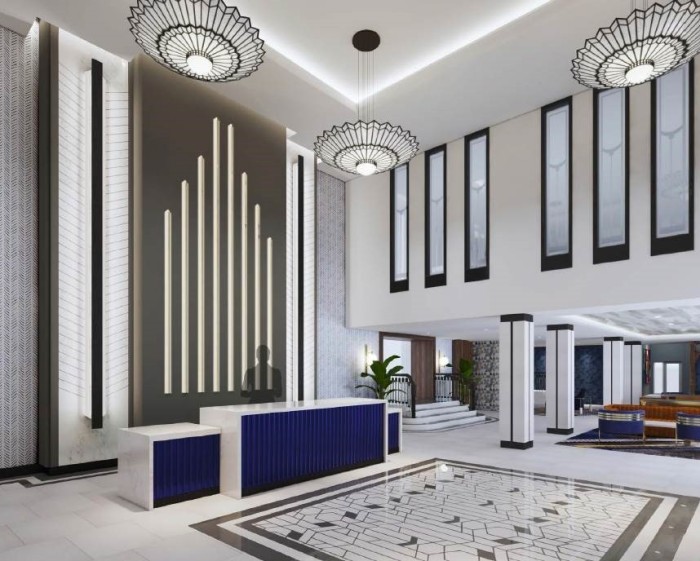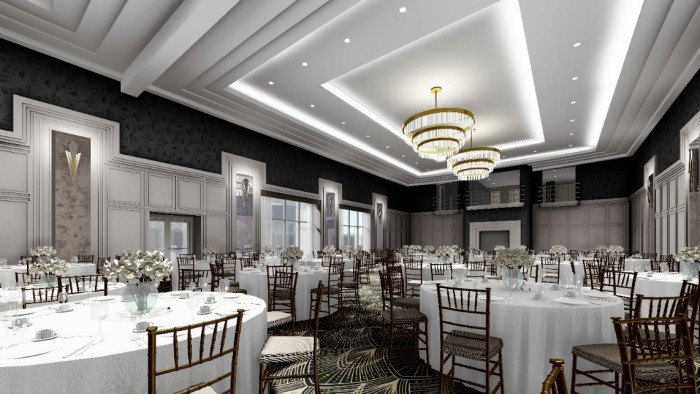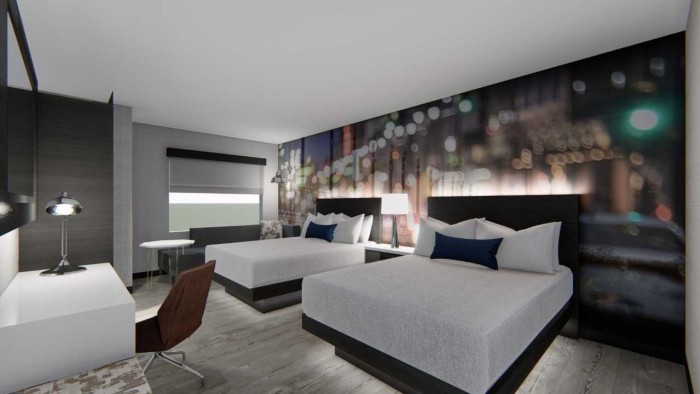 ---
Solidarity House
Solidarity House, the headquarters of the International Union, United Automobile, Aerospace and Agricultural Implement Workers of America (UAW) since 1951, was significantly damaged in July, 2019, when a fire claimed the third, with the remainder of the building sustaining extensive smoke, soot, ash, and water damage. This caused the employees who worked there to be moved to other facilities.
The 165,617 sq. ft. building consists of the ground floor, plus six additional floors, and was dedicated by then UAW President Walter P. Reuther, long recognized as an American leader of organized labor, and a civil rights activist.
Over these many years Dr. Martin Luther King Jr. visited Solidarity House on numerous occasions, and other notables include Cesar Chavez, Bill Clinton, Walter Mondale, Harry Truman, Henry Ford II, Jackie Robinson, Jerry Lewis, and many others.
From a historic and far-reaching perspective, Solidarity House undeniably merits recognition as the home of the UAW and its members who have consistently responded to their responsibility to afford a voice to membership and the world, by way of decisions relating to workers and their family's quality of life through advancement of social and economic justice. Collectively, all who are part of the UAW, the union's leaders and workers, have met and worked at the Solidarity House to afford opportunity for participatory engagement in the advancement of labor and civil rights in represented nations and throughout the world.
Following the devastating fire, UAW leaders met numerous times, and after thoughtful deliberation, determined the best course of action was to renovate and modernize the entire building. Unfortunately, accurate and detailed floor plans of the building were lacking. Over the years, internal renovations and exterior additions had changed the historical building to the extent that old drawings of the floor plans were no longer viable, and AEW was commissioned to assist in the Investigative, Design, Survey, and Reconstruction phases.
As restoration planning began, the UAW Team, including AEW architects, engineers, and surveyors visited the facility to assess the magnitude of the damage and offer suggestions on how to best proceed with this noteworthy project. This reconnaissance revealed that development of architectural, mechanical, electrical reconstruction plans would be complicated, time-consuming, and would require significant expertise and technology. With this recognition, the UAW Team elected to proceed with Terrestrial and Aerial Scanning of both the interior and exterior of Solidarity House.
This enabled the building to be designed and constructed for updated functionality and aesthetics, while also bringing it up to today's codes and ADA compliance. This included more efficient mechanical, electrical, and plumbing systems (MEP), along with new energy-efficient glazing and façade, new stair towers for egress compliance, and updating the entire facility with improved worker safety and usability.
The UAW Team, including Peter Basso Associates and Wakely Associates, has worked tirelessly to assure that this historic restoration and modernized building complies with City of Detroit Building Codes and user requirements and expectations. Barton Mallow Company has been selected as the Construction Manager. The entire Team recognized that in order to assure a successful project, it is essential that all components are founded on quality and reliable information.
AEW Awarded a "Surveying Excellence Award" for work on
the UAW's Solidarity House Project
The American Council of Engineering Companies/Michigan (ACEC/M) honored firms for "Engineering and Surveying Excellence" during the association's annual Awards Gala held on Feb. 26, 2021.
The ACEC/M Awards Program recognizes outstanding efforts of professional design firms to solve client's needs through exceptional projects and offers the opportunity to showcase the year's best engineering and surveying achievements to an audience of peers, clients and decision makers at all levels.
"The projects engineered by private sector firms have a profound effect on the quality of life for all Michigan residents. Their efforts result in quality roads and bridges, safe drinking water, and a clean environment for people to live, work and play," said Ronald Brenke, PE, ACEC/M Executive Director.
Anderson, Eckstein & Westrick was honored to be awarded the Association's "Surveying Merit Award" for the firm's superior work on the "UAW Solidarity House" project following the devastating fire at the Union's headquarters.
---
AEW remains at the forefront of new construction trends and approaches. Its architectural and design, surveying, and civil engineering services run the gamut from traditional on-site work to modular design, and all things in between. Our firm has had recent projects in residential, health care, manufacturing, and education, as well as a focus on municipal buildings and facilities.
---